We have an old Kenwood Chef A701 that's hardly out of use in our kitchen. A few days ago, the gearbox went. I bought a reconditioned one on Ebay for £23, and this morning I made the time to do the repair.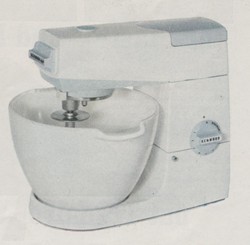 As I tinkered away with my screwdriver, I reflected on how grateful I was that the designers of this machine had made sure it could be maintained by an idiot like me. I actually made our A701 by cannibalising two broken machines, and I have always been delighted by how easy it is to work on.
Perhaps it's my confirmation bias, but it seems that machines like this no longer tend to be designed with maintenance in mind. In our consumer society, we're encouraged to throw things away rather than repair them, and globalisation ensures that is often the apparently rational economic decision to take: paying a local repair man to fix your DVD player will cost more than popping down to Tesco and buying a new one. Thank goodness for those cheap Chinese factories, eh?
If we don't design our manufactured goods for maintainability, perhaps it's no wonder we often feel like we're swimming against the tide trying to persuade people that it's important in software.